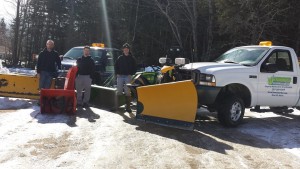 Snow plowing:  We offer both residential and commercial snowplowing with seasonal or per service invoicing.  All our trucks are out working 24/7 during storms and can be reached on a moment's notice to respond.
Snowblowing/Shoveling:  We can snowblow or shovel paths and decks to keep walking areas clear and safe.
Salt/Sand spreading:   To battle icing and slippery conditions, we offer a combination of a salt/sand mix or straight salt depending on the customer's request.  The sand mixture provides added traction and combines with the salt to make a powerful melting combo.